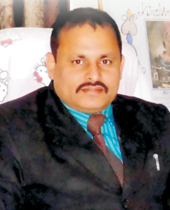 Mr.Devesh Kumar Pandey
Principal
Dear Parents, Guardians, Students and distinguished citizen of this locality,
At the outset, a very warm greeting from Cambridge Public School!
It's true that, "Future of a country designs in its classrooms". Vidyalaya continues its journey towards best achievement of excellence in every field.
We would like to congratulate all of you on well deserved achievements in the gone years in academics, sports and cultural field. We have been acquiring all the requirements as per demand of the current dynamic scenario.
As we know, Indian Social System is exceptionally rich in its culture, Traditions, Custom and Moral Values and as per global need the schools have to shoulder the responsibility of preserving this system and induce creative high sense of thinking among the students.
Our mission is to inculcate in the students a high sense of discipline, a spirit of perseverance, meticulousness, self-reliance and perfect Teaching – Learning ambience to make our students a worthy citizen of the Country.
To meet above goal we have added 1:1 computer Ratio in Computer Lab., Multimedia Classes for concept stimulation, English Speaking Forum, Montessori Method of teaching in junior sections, Attention on sound and accent, various clubs to boost up the student's capability through CCE tools i.e. OTBA, ASL, Life Skills etc…
We must also say that, this school is fortunate enough to have supportive parent's community. Thank you Parents and Guardians for trusting us and sending your wards to our school. Your faiths in us will surely bear wonderful fruits. We also thank the worthy people of this locality for their regular supports. With God's blessings and great support of our honorable Founder Shree Satish Giri, Director Shree Vikash Giri, Dynamic Managing Committee, Hardworking and Knowledgeable Teaching Team, and Non- teaching Staff Members, we have been able to prove our self. We are committed to turn your dream in reality. Looking forward to your long term association, regular co-operation and strong attachment with us.